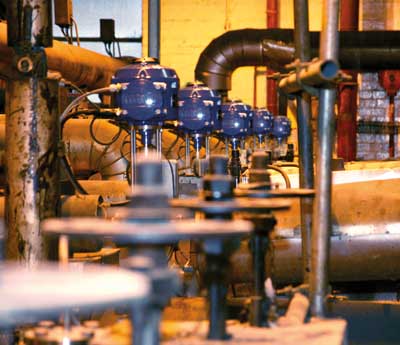 The Rotork CVA offers an accurate and responsive method of automating control
valves without the complexity and cost of a pneumatic supply. Photo courtesy of Rotork
They work in harsh environments, and they get little or no recognition. But their impact on power plant efficiency can be significant.
Valves and actuators are critical in almost every aspect of power plant operations. They are used in a wide range of applications, including pollution control, feed water, cooling water, chemical treatment, bottom ash and steam turbine control systems. They are exposed to a variety of chemicals, abrasive materials and very high temperatures. They are critical in optimizing efficiency, and they are often the final control element in the operation of a power plant.
Although the basic technology for most valves and actuators has remained unchanged, innovative applications and design modifications for problem solving have led to notable improvements in actuator technology. These improvements can reduce costs by supporting the control valve's ability to throttle accurately, thereby providing better performance for high-pressure steam bypass, turbine bypass and other critical power plant operations.
Actuators regulate mass and energy flows by adjusting valves, flaps and cocks.
The actuator and valve create a single unit — the control valve. Actuators perform different motion sequences, including linear, pivoting and rotating motions, and they are powered by pneumatic, hydraulic or electrical energy.
Actuators receive a control signal from automation systems. The signal is converted into a motion so that the control element of the actuating element assumes a corresponding position. With control valves, this is a stroke motion. With flaps, ball cocks or rotary plug valves, this is a pivoting motion.
Power plants have traditionally used pneumatic actuators to drive the many control valves throughout their facilities.
However, major improvements in electric control-valve actuator technology are helping power providers achieve their most important objectives at a lower cost.
The new electric actuators can hold up to the demands of continuous movement.
In addition, they work effectively in harsh environments, and provide superior performance in a wide range of applications. The benefits include better efficiency, less maintenance and enhanced performance of the control valves.
The electric actuators include a new technology to meet the specific demands of a constantly modulating control valve using electricity as the mode of power.
Like traditional pneumatic actuators, the new electric actuators are capable of constant modulation for long periods of time throughout the life of the valve. The electric actuator has an advantage in that it does not require recalibration over time.
Temperature, contaminates and other factors have no impact on the unit's calibration. Once calibrated, the electric control valve actuator can operate for months, even years, without adjustment.
Electric Actuators
Rotork has a line of all-electric, compact modulating actuators known as the Continuous Duty Modulating Failsafe Electric Actuator. The Rotork CVA is suited for almost all linear, quarter-turn control valve applications requiring precise position control and continuous modulation.
"There are applications where they need to move continuously," Said Pete Kundin, general manager of Rotork's Eastern U.S. Business Unit.
The electric actuator features a failsafe function, allowing the operator to program the actuator to lock in one of four positions if there is a loss of power. "If the actuator was halfway open and you lost power, it would close or open, depending on how it's calibrated," Kundin said.
The CVA does not require the infrastructure (piping/tubing to distribute compressed air) needed to operate a pneumatic actuator. What's more, it is significantly more accurate, Kundin said.
"This electric actuator is extremely precise," Kundin said. "People are using this in some very arduous applications in turbine fuel and steam control."
The move toward electric actuators has led to the creation of more digital networks for controlling these types of actuators. But the transition has been slow, Kundin said.
"The power industry was probably one of the last industries to embrace digital networks," he said. "Today, it's almost more of a standard to see the electric actuators controlled over a digital network than traditional wiring."
The market for Rotork valves and actuators has been strong in almost every segment of the power sector, especially hydropower. "Hydroelectric has really been a nice business for us," Kundin said. "A lot of hydro upgrades have quietly gone on at a lot of the existing stations."
Pneumatic Actuators
While many pneumatic actuators have remained unchanged, except for the addition of smart positioners, there have been some new innovations in pneumatic actuation.
A number of piston and rotary actuators have been creeping into power plants, which primarily have used diaphragm actuators on control valves.
Pneumatic actuators equipped with smart positioners now functionally compete with electric actuators in terms of fail-in-position operation on loss of signal at significantly less cost.
Hydraulic Actuators
Hydraulic actuators are more popular because of their ability to achieve high torque. Some companies offer a linear actuator that can be modified for rotary action through a gearbox.
The device has been around for more than a decade and offers a digitally stepped servomotor pump to provide higher positioning accuracy than pneumatic actuators.
Hydraulic actuators have even been used to position small turbine control valves. The actuator is connected to a nearby smart programmable electronic box with an umbilical cable.
Configuration and calibration is made easy through this box, which can be mounted away from the process for convenient access.
CONTINUOUS AND PRECISE ACTUATION
The Contrac series continuous electric variable-speed actuators are the ideal solution for highly precise, continuous position regulation of injection control valves and reduce operating costs.
The intelligent field devices of Contrac actuator systems are based upon ABB's family of conventional rotary and linear actuators. The name Contrac is an amalgamation of the words 'control' and 'actuator'. The actuator system sets itself apart with continuous positioning, precise control, long service intervals, overload protection in end positions without torque-dependent cut-off as well as its high protection class. The series comprises tried and tested mechanical components combined with microprocessor electronics and is compatible with fieldbuses as well as conventional control methods. The devices offer diagnostic options and parameter settings are performed via a graphic user interface. The systems are self-monitoring and offer fail-safe back-up of technical data.
In the most frequently used duty, the Contrac actuator follows an analogue setpoint signal in continuous operation. As the torque or force increases or decreases smoothly, the mechanical components are not subjected to load peaks. This facilitates long service intervals and a long service life of the actuator and actuating element. In this material-friendly duty, Contrac systems can also be operated when control commands are received as pulses from a step controller. In this way, the user can benefit from these unique operating features even in older plants, which frequently still use step control or simple open-closed commands. Torques and forces can be set independently of each other as well as the direction of motion. This can either be set via a constant value or a torque/force characteristic curve. The speed settings are made in a similar manner.
In the "Drive to end position" duty, individual settings are available for the respective end position. Depending on the settings, the motor either remains on or is switched off as soon as the actuator reaches its defined position and the brake is applied to stop the motor. With the help of the breakaway function, the Contrac actuator can make up to 200% of its rated torque or rated force available in the end position areas. This allows jammed actuating elements to be safely moved out of their end position. For most control loops, minimal valve movements near the end position make little sense from a technical perspective. If, however, process variables change at this actuating element position, the actuator will follow the resulting control commands and there is a danger that the valve final control element will sustain permanent damage if it is approached too often. There is also a danger that valve positions very close to the end positions will cause cavitation. ABB actuators avoid this effect by defining a small area in front of the end position. As soon as the actuator reaches this area, it behaves as if it were set to 'Drive to end position'.
The three-phase asynchronous motor with cage rotor guarantees safe and reliable operation. The use of a frequency converter allows the torque and stroke time of the intelligent actuator to be varied. This means that both parameters can be adapted to the actuating element or process independently of each other. The motor is constantly under voltage, and increases or reduces the torque gently and in proportion to the control deviation. The actuator is always switched on, meaning that no restrictions are placed on the control loop, even at the maximum permissible ambient temperature.